Book II – Unbridled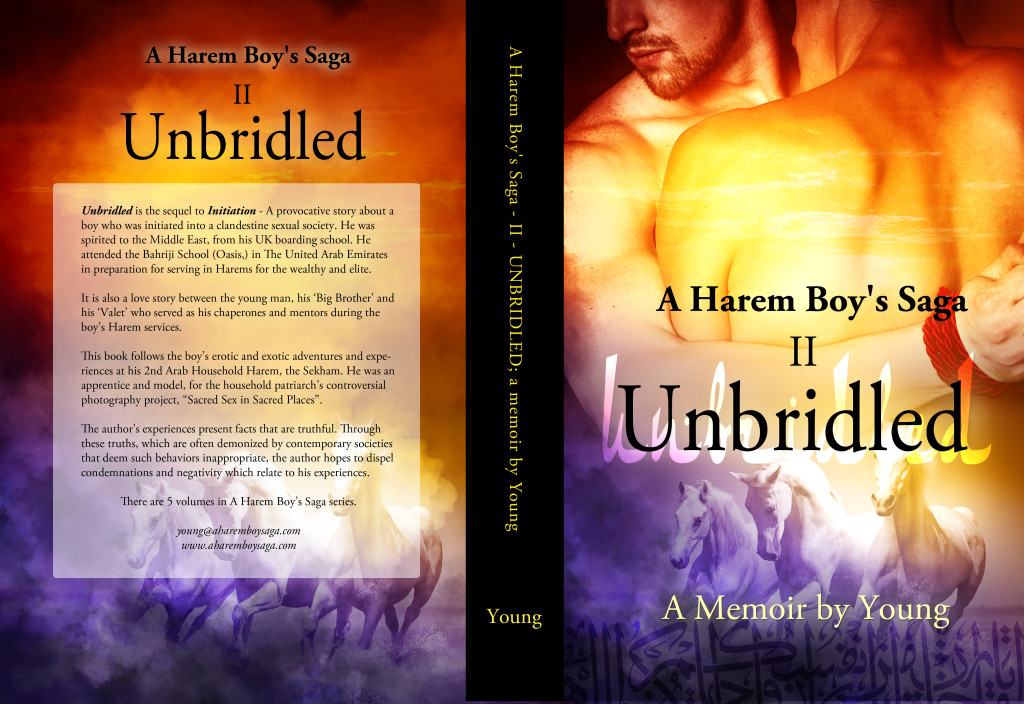 Unbridled is the sequel to Initiation – A provocative story about a boy who was initiated into a clandestine sexual society. He was spirited to the Middle East, from his UK boarding school. He attended the Bahriji School (Oasis,) in The United Arab Emirates in preparation for serving in Harems for the wealthy and elite.
It is also a love story between the young man, his 'Big Brother' and his 'Valet' who served as his chaperones and mentors during the boy's Harem services.
This book follows the boy's erotic and exotic adventures and experiences at his 2nd Arab Household Harem, the Sekham. He was an apprentice and model, for the household patriarch's controversial photography project, "Sacred Sex in Sacred Places".
The author's experiences present facts that are truthful. Through these truths, which are often demonized by contemporary societies that deem such behaviors inappropriate, the author hopes to dispel condemnations and negativity which relate to his experiences.
There are 7 volumes in A Harem Boy's Saga series.
Excerpts:
My Bidder & I
By the time the guests bid our host farewell, I was soaking in a luxurious bath at the Maktub. Andy, entering our bath chamber, announced that my highest bidder had summoned me to his suite. He was an overnight guest at Al Fayoum, a guest suite in the Sekham. Accompanying me to Al Fayoum, my Valet said, "I have a prognostication that your highest bidder is of Royal decent." Before he could continue, we had arrived at the chamber's large wooden entrance.
A burly Arab gentleman answered the door. Directing us into the beautifully decorated living room, he told us to wait as he proceeded to inform his Master of our arrival. A suave man in his early 30s entered wearing a white bathrobe. In perfect English he greeted Andy and me before leaning across to give my Valet a traditional nose rubbing salutation. When it came my turn, a whiff of eucalyptus greeted my nostrils as he lowered his nose to mine. What transpired next was beyond my comprehension; my bidder was tickling my nose with the tip of his tongue before savoring my delicate lips; tantalizing my boyish naiveté towards his masculine musculature. At once enchanted by the smell of fresh eucalyptus and intrigued by his beguiling protocol, I was breezed by such forwardness and at a loss for words. Releasing me, my bidder showed us to a comfortable sofa before he took the loveseat opposite my guardian and me.
He said smilingly, "Young man, you're an excellent dancer. Will you to be my 'private dancer'?"
I thanked him for the compliment and kept silent, not knowing how to respond to his request when he continued, "What's your name?"
Before I could reply my guardian spoke on my behalf, "His name is Young, your Highness."
Stunned by my Valet's royal address I looked at him speechless while he continued, "Sir, my charge is at your service. Shall I leave the two of you and wait outside?"
My bidder spoke arbitrarily, "Stay! I'll like you to do me a favor."
Andy answered, "How may I be of service, your Highness?"
"Oh, you don't have to be so formal. Address me as P, I know you are looking after Young and the Wazir told me the two of you are lovers. I like to watch you make love to this bacchá. It'll arouse me greatly," announced the Arab.
Before Andy could respond, P motioned me to sit by his side. Sitting close, he bends towards my neck and inhaled my adolescent aroma deeply, as if savoring the sweetness of a newborn. Whispering softly in my ear he uttered, "Ahh! The intoxicating beauty of youth as described by the prophet: 'Round about them will serve, to them, boys (handsome) as pearls well-guarded'." Gently nibbling my earlobes he eased his thirsty lips down my neck before sinking in his pearly fangs as if drawing delicious nectar like a honey bee. Intoxicated by my Master's vampire guise, shocks of electric currents vibrated down my arching spine; I willingly offered my bacchá innocence to this erotic aristocrat for his inerrant enjoyment. French kisses filled my urgent provocation as his desires rendered me helpless, and Andy's tantalizing riposte replaced my bidder's sweet attraction. Laying me on the loveseat, P's obsessive glare stirred my uninhibited longing for my lover's unbridled manhood. Willingly I surrendered to my lover's sensuality before his consecrated erection encased me in a cocoon of sacramental love. Our glowing auras merged into a halo of sexual unity, bonding our sacred Eucharist, igniting a fiery passion of unimaginable bliss and filling our bodies with flowing essence of milky love. P the voyeur, sat enamored, watching a love story unfold that was as old as the creation of man.
Seduced by our tantalizing nakedness, my bidder dared himself to enter our homoerotic realm – a realm that defied time and space and only Divine Providence was left to forfeit active participation. Nothing but our lustful releases could satisfy our overwhelming genital hunger; when the cocks crowed treis, we savored our afterglow from the rising sun. This Bacha Bazi was a splendid reminder of Mario, Andy and me floating on a private gondola in Venezia's Grand Canal. I was already infatuated with my bidder before morning broke.