Book I – Initiation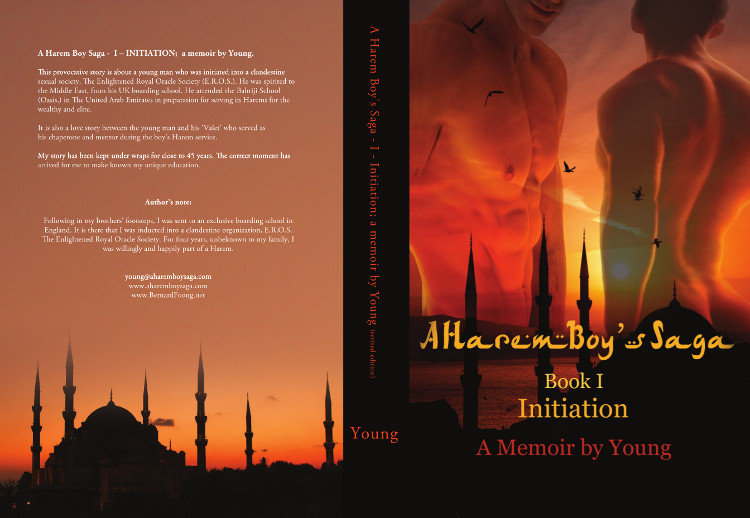 This provocative true story is about a boy who was initiated into a clandestine sexual society while attending a UK boarding school. As a member of the society, he was sent to the Middle East where he attended the Bahriji School (Oasis) in The United Arab Emirates in preparation for serving in Harems for the wealthy and elite.
This is also a love story between an adolescent and his 'big brother,' who served as his chaperone and mentor during the boy's Harem service.
Excerpts:
Chapter Sixty-One
Notte Sadomasochistico
Courage is resistance to fear, mastery of fear, not absence of fear.
Mark Twain
When Andy returned from his errands he sat me down in our luxurious sitting room and began speaking. "Young, there is something we are going to do this evening that is different and could be shocking to someone like you."
I was curious, "I'm all ears; tell me more."
Mu'allmi Ramiz's Story
Andy said, "Before I begin I have to fill you in a little about Ramiz. You probably already know he is a very religious man and has a number of issues surrounding his sexuality, which he has trouble confiding to anyone.
When he was young, his father found him playing with himself, and also with another boy in his Islamic religious school. His father was very angry and used a leather whip to beat him, thinking that by doing so he would stop what Islam considered sinful."
Ramiz could not control himself and kept falling back into his sinful sexual habits. Being whipped actually encouraged his sexual thoughts involving another man. After masturbating or a sexual liaison with a male, he would secretly whip himself. He began to crave pain associated with the sex act, self-inflicted or other-inflicted.
I was shocked to hear what my Valet was telling me, but I was also intrigued, and listened attentively.
Andy continued, "When Ramiz was at Oxford University, he stumbled across a homosexual leather bar in London and was amazed to learn that there were others, like him, who liked to roleplay as dominants and submissives."
I asked, seeking clarity, "You mean like what Professor Henderson taught us about sadomasochistic behavior?"
Andy replied, "Yes, something along those lines but in Ramiz case, it is associated with repentances from his sins. Now he has become addicted to being whipped and abused. After punishment he feels cleansed from his bad behavior until his sexual urges return and the cycle begins all over, again."
I questioned, "Is that why he couldnt sleep last night and got up early to pray? Does he ask Allah for forgiveness because of his sinful, homosexual thoughts?"
"I suppose," replied my Valet. "He became a regular at the London S & M underground dungeons, playing the role of slave. Back home it was next to impossible for him to meet people who behaved in a similar fashion. Then, he met us. We, being educated in varied forms of sexual expressions, are open to experimental ways of thinking and doing things. He asked me to play the role of Master, to handcuff him to the bed and to lash him with a leather whip."
Fascinated by this incredible tale, I enquired, "What am I supposed to do? Where do I come in?"
Smiling, my guardian replied, "You, my darling boy, are to play the part of the savior, to console his pain and anguish during the whipping. Youll soothe him and tell him that he can bear the pain and that the ordeal will soon be over. Gently tell him to be a good man and let his Master have his way with him until his sins are completely cleansed."
I couldn;t help but burst out laughing! In my mind it seemed so absurd. My Valet reprimanded me for laughing at such a serious matter and said, "Young, you cannot laugh when we are role playing. You have to be dead serious; otherwise your professor will never forgive you for embarrassing him. Our standing at the Hadrah;s Household could be jeopardized."
I continued asking, "Does Hakim know about Ramiz?"
"I don't know. Maybe you can ask your mu'allmi after we are done. For now, we must get ready for our evening at Ristorante La Fonticine," Andy commanded.
At Ristorante La Fonticine
As we sat, waiting for our food in the lavish open air ristorante, I could not help but think of Ramiz's story. I was looking at my teacher, wondering how in the world this gentle man got himself into a sadomasochistic addiction. Was it years of repression that caused this? Or was he born with such an unusual inclination, the way I was born an effeminate boy? All these thoughts ran through my mind like wildfire, as I wondered what our after dinner-rendezvous would bring.
On one hand, I was curious to find out what happens during sadomasochist play-acting, and I secretly anticipated the meeting. On the other hand, I was worried someone might get hurt, since I had not a clue as to what might happen in such a dangerous game. Although Professor Henderson had given us lectures on such behaviors, class studies are vastly different from reality. All I could do was wait to witness, firsthand, what would transpire in the Conventino Presidential Suite, mu'allmi Ramiz's chambers. For now, I concluded, I might as well enjoy a fabulous meal, push my fears aside, and let the evening unfold itself.
Within The Conventino Presidential Suite
Andy and I wore thobes without any undergarments when we proceeded to my teacher;s suite at eleven. When we knocked on the chamber door there was no reply. Andy knocked again but there was no response. As we stood, we could hear some groaning noises faintly, through the doors. My Valet decided that we should creep into the room, unheard.
The sitting room was nearly pitch black. The only light was a dim blue nightlight shining from within the bedroom. We tiptoed towards the bedroom door without making any commotion. The door was partially ajar. The television was playing and I could hear moaning and groaning noises, as if someone was in pain.
Ramiz, lying in bed naked, was busy masturbating while watching a pornographic S & M movie. Completely absorbed, he seemed not to notice us standing in the room, watching him play with himself.
When he discovered we were there, he panicked and tried to cover himself, but my Valet was already pinning him down onto the bed. As the two men struggled, I saw Ramiz purposely allowing my guardian to force him into submission rather than trying to wiggle away from his muscular captor. I also noticed that Mu'allmi;s cock was extremely aroused during the wrestling.
Andy snatched a pair of handcuffs from the bedside table and cuffed my teacher;s wrists to the bedposts, face down. Although Ramiz continued to thrash about, his Master controlled him, binding each of his ankles to an end post of the bed. The victim was now under the control of his handsome, dominating Master. Andy blindfolded his conquest with a piece of black material so he could not see who inflicted the blows.
The Master took a black leather horsewhip from a bedside drawer and began whipping his victim;s hairy buttocks. With every wallop, the slave let out a whimpering moan, and his captor commanded him to shut up. He would inflict a tougher punishment if he continued squirming, disobeying his commands.
Andy said in an angry voice, "How many times do I have to tell you not to masturbate or watch those nasty movies?"
Ramiz whimpered, sputtering in a barely audible soft voice, "I'm sorry, Sir! I promise I will not do it again."
With each plea of apology the Master gave his slave lashes on his buttocks until the poor man was sobbing with remorse. Andy motioned for me to go over to my teacher and lay his tearful face on my lap, so I could console the victim with soothing words of love and understanding, telling him that his ordeal would soon be over if he did as his punisher commanded.
Mu'allmi cried for the whipping to stop. "Please, please Master! I;ll do whatever you command. Spare me this pain and release me."
"No, you ungrateful man! Allah will never forgive you for your sins." Andy scolded angrily while raining another blow down on the man's naked buttocks, yielding another whimpering yelp.
I continued stroking the slaves handsome face, consoling him with compassionate words, leaning down to kiss him on his lips and mouth as he endured another wallop on his backside. Ramiz looked so pathetic that my heart genuinely reached out to him.
The more I consoled my teacher, the further I took on the role of the protector, begging my guardian to stop beating him. Yet, Andy was relentless. Severe blows pelted the mans bottom until it was red and raw from the whipping and spanking. At times, Andy would reach his hand out, to stroke his slave;s engorged penis, jerking him nearly to the point of orgasm, then stopping to strike his buttocks again, unrelentingly.
I could tell Ramiz was enjoying all the attention showered upon him from Andy and me. My guardian savored the role of the punisher, and I was the perfect consoler, allowing Ramiz a mouthful of semen from my fountain of youth. I sensually kissed and caressed every inch of Ramiz body during his punishment.
The Final Ecstatic Torment
By the time we left the Presidential Suite it was almost 3:00 a.m. We were scheduled for an early start to Tuscany that morning. Ramiz seemed deeply satisfied after his punishment. Andy and I were emotionally and physically drained after doing our best to assist Ramiz, who was tangled in remorse, desire and guilt. At least we brought some solace to his tormented soul. We were, indeed, glad we were not in the muallmis shoes. Despite the wealth, education and career success a man may have, he is unsatisfied without the blessing of true love.
When love and skill work together expect a masterpiece.
John Ruskin